Ingredients for 4-6 people:
Ragout:
600 g parsnip
1000 g potatoes
150 g onions
1 clove garlic (Soul of kitchen)
60 ml Schlagfix rapeseed oil
1 g nutmeg, ground
850 ml Schlagfix universal whipping cream
1 pc. Lemon
½ bunch parsley (garnish)
Pastinaken Grün (Garnitur)
Salt, sugar or xylitol
Chips:
80 g parsnip
150 ml rapeseed oil (fat for frying)
Sea salt fine to taste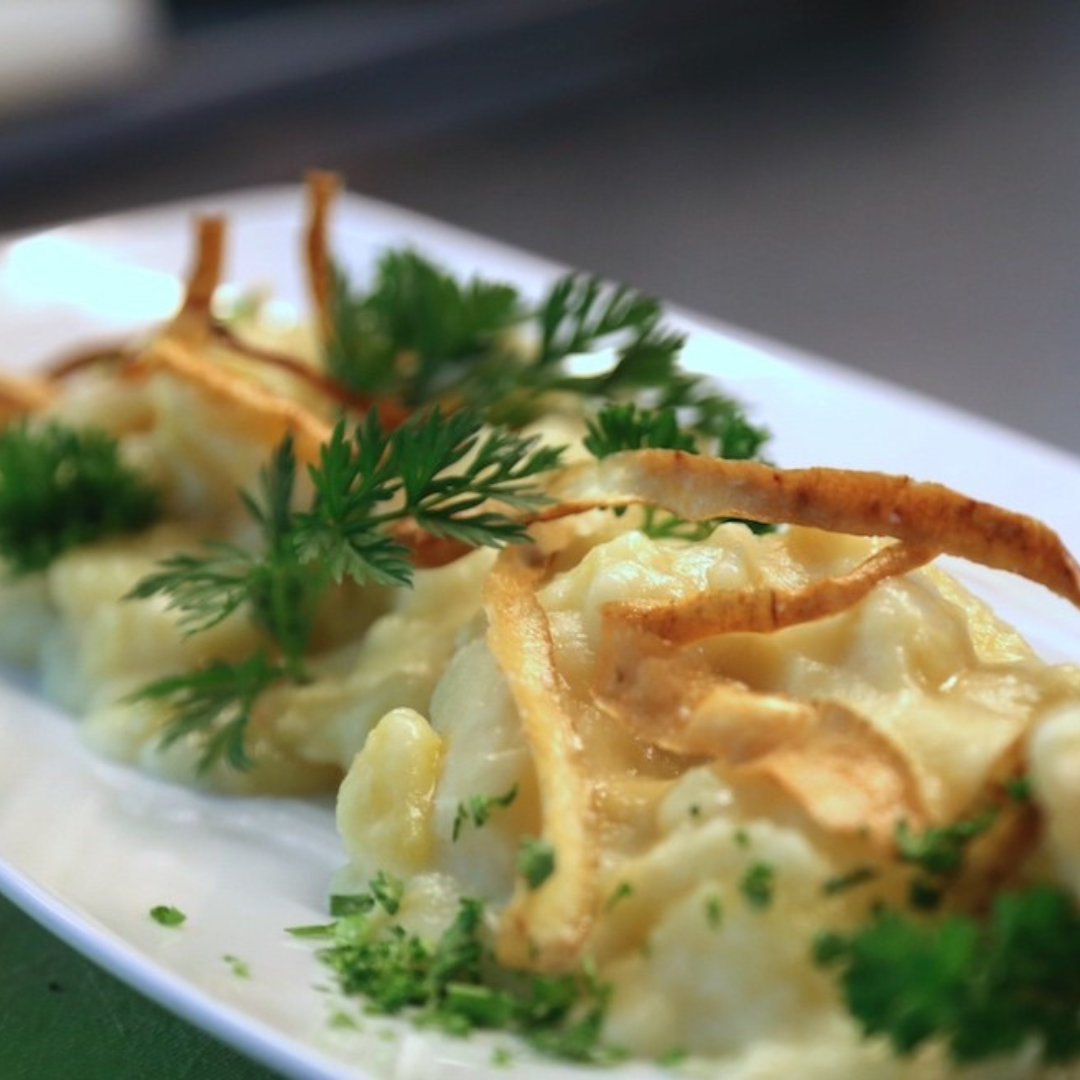 Preparation:
Wash and clean the leeks, cut them in half lengthwise and cut the white and light green parts into 1 cm thick pieces. Peel the potatoes and cut into small cubes. Finely dice the shallots. Finely crush the mace and a little salt in a mortar.
Melt 2 tbsp oil in a large saucepan and sauté the shallots over medium heat until translucent. Add the leeks and potatoes and sauté briefly. Cut the bay leaf several times with scissors. Add the soy milk, Schlagfix universal whipping cream and stock to the pot and bring to the boil, covered. Add the muscatel salt and cook over a gentle heat for 30-35 minutes.
Meanwhile, wash the sorrel and pat dry, finely chop the leaves without the coarse stems. Puree the sorrel in a mixing bowl with 8 tbsp oil. Set the sorrel oil aside. Clean the Romanesco, divide into approx. 3 cm florets and cut in half lengthwise.
Sauté the romanesco in the remaining oil in a non-stick pan over a high heat for 2 minutes. Then fry over medium heat for another 3 minutes and season with salt.
Remove the bay leaf from the soup. Puree the soup very finely with the hand blender and pass through a fine sieve if desired. Heat the soup again and season with salt and piment d'Espelette. Serve the soup with the romanesco and sorrel oil.